OMS-Lite
(Product ID: OMS-Lite)
OMS-Lite is a simple, GUI-based pressure and temperature sensitive paint data processing software. The data reduction procedure for PSP involves taking the ratio of wind-off / wind-on images and converting this image to pressure using a calibration that relates this ratio to pressure. In practice, several other image processing steps are often required. These steps can include compensating for the background lighting, image alignment, image filtering, in-situ calibration, temperature correction, and resection (transformation of 3-D model coordinates into 2-D image coordinates), all of which are supported by OMS-Lite. The main window of OMS-Lite is shown below. It allows the user to load the relevant wind-off and wind-on data files, and to access any of the image processing and calibration features.​
The following images show a basic single-channel (single luminophore paint) data set being processed. The data set begins with the raw wind-on image. The background is then removed from the image, and then the image is filtered, then the wind-off/wind-on ratio is taken and converted to pressure.
---
Downloads
Software: OMS-Lite v1.2.3
Lab 1: Introduction to OMS Lite
Lab 2: PSP Data Acquisition and Processing
Lab 4: Pressure Gradients over a Wing
---
ProImage
(Product ID: OMS-30i)
ProImage is a data processing software developed for higher-end users for experiments with multiple cameras and test conditions. ProImage includes many image editing and data processing tools that the basic OMS-Lite does not. A region of interest can be selected and cleaned up in ProImage to produce high-quality pressure or temperature fields.Many additional features are available in ProImage to clean up images. Imperfections such as screw holes, markers, and paint imperfections can be removed from the field.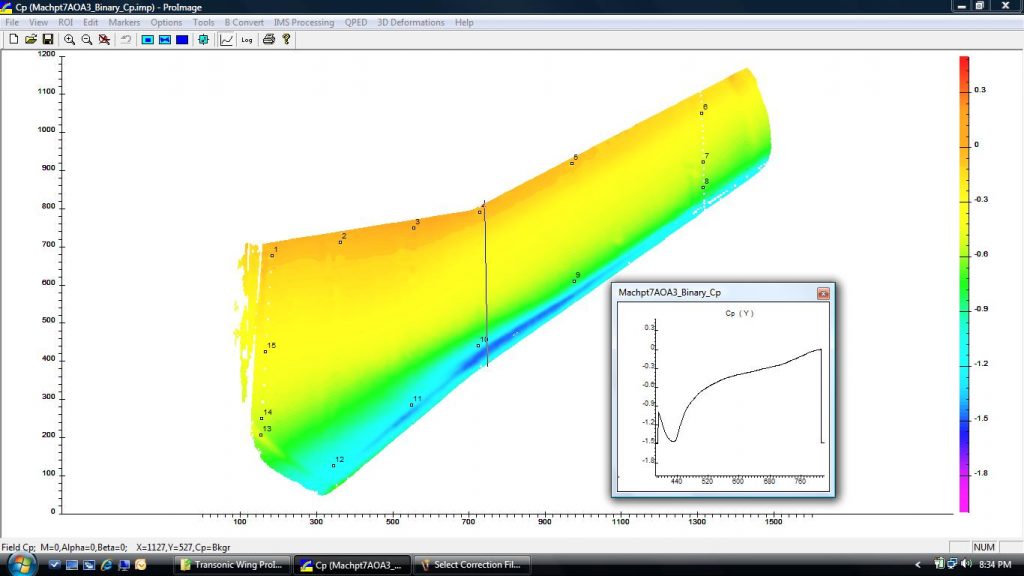 ---
Downloads
Software: OMS ProImage x32.exe
Software: OMS ProImage x64.exe
---
ProGraph
(Product ID: OMS-30g)
ProGraph is a software package used to create a mesh of a model. This mesh is created so that the pressure or temperature field can be mapped to it using the ProField software. ProGraph will output .dat and .apt meshes, the major difference being the structure of the grid. ProGraph is compatible with .stl files to create a mesh from. Structured meshes can be created and instruction is available in the ProGraph user manual.
---
Downloads
Software: OMS ProGraph x64.exe
---
ProField
(Product ID: OMS-30f)
Profield is a software package used to map images such as pressure and temperature fields, to a mesh. A 3D or 2D mesh created in ProGraph is loaded into ProField and then a bitmap created in ProField is resection to the mesh. Alignment is done with markers and via a manual image alignment tool. ProField can map to complex geometries for testing done on an entire aircraft model. This software gives the user the advantage of impressive experimental 3D maps of surface pressure, temperature and pressure coefficient.
---
Downloads
Software:
---
For ordering information please contact our sales department: issi-sales@innssi.com or call us at (937) 630-3012
For technical support, please contact our support department: support@innssi.com or call us at (937) 630-3012