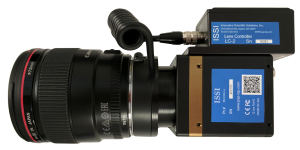 EF Lens Controller
(Product ID: Controller: LC-2, Adapters: LC-2A-C, LC-2A-M42, LC-2A-T, LC-2A-T18, LC-2A-M58-75)
The ISSI EF lens controller is designed to operate Canon® EF, EF-S and L series IS auto focus lenses as well as Sigma® and Tamron® EF lenses. The lens controller makes it possible to operate these lenses on non-Canon® cameras. Its Ethernet connection makes communication simple and also allows it to be operated over long distances or via a network connection. The LC-2 control can also be written into existing software for both Windows and Linux via API commands. The controller is paired with an appropriate lens adapter to communicate with a lens.
---
Features
Remotely control Canon®, Sigma® and Tamron® EF/EF-S auto focus (AF) lenses on any camera
Accurate and repeatable control of Focus, and Aperture (Iris)
Image stabilization control (IS for Canon®, OS for Sigma® and VC for Tamron®)
Auto-detection of attached lens and F-number stops with included lens adapter
Lens drift compensation
10/100Mbps Ethernet interface
Multiple controllers can be connected and simultaneously controlled over a network
Easy to use software interface and TCP/IP API commands for Windows/Linux/MacOS
Unlimited programmable preset capability to easily store and recall saved positions on the lens
M42x1-mount (LC-2A-M42), c-mount (LC-2A-C), T-mount (LC-2A-T) and M58-mount (LC-2A-M58-75) lens adapters are available with the LC-2
---
Components
LC-2 Controller C-mount Lens Adapter M42-mount Lens Adapter T-mount Lens Adapter T-mount Lens Adapter (Thin) M58-mount Lens Adapter
Note: Adapters pictured without cord
---
Applications
Machine Vision Systems
Aerial Surveillance Systems
Sorting Systems
Inspection Systems
Event Monitoring Systems
Video Production
Astrophotography and Astronomy
---
Pairing a Lens Adapters to a Camera
In order for infinity focus with EF lenses, the flange focal distance of 44.0 mm must be maintained. Flange focal distance is the distance from the lens mounting flange to the sensor image plane. Drawings below in the CAD Drawings section show the thickness of each adapter ("B"). Camera datasheets will specify "A" in their mechanical drawings.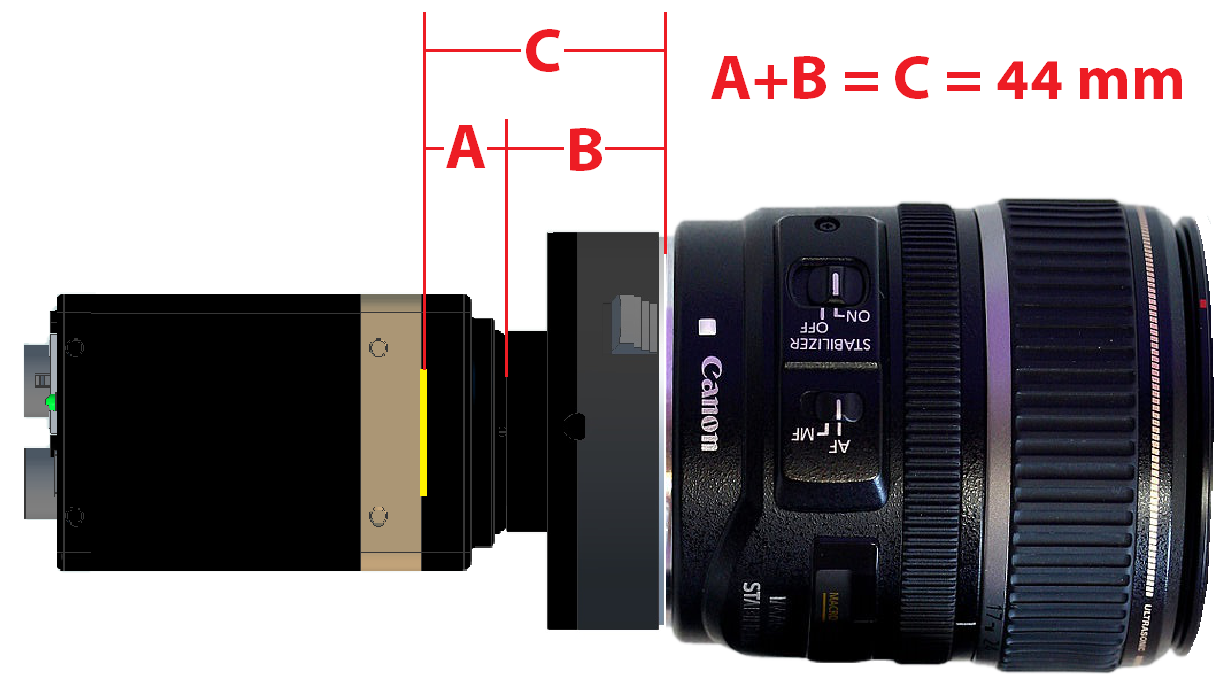 Custom solutions are available. Please call us to discuss.
---
Ordering Information:
Package consists of LC-2 control box and one lens adapter. Specify lens adapter type (C-, M42-, M58 or T-mount).
Control Box: LC-2
Adapter: LC-2A-C (EF to c-mount lens adapter), LC-2A-M42 (EF to M42x1 lens adapter), LC-2A-T (EF to M42x0.75 lens adapter), LC-2A-M58-75 (EF to M58x0.75 lens adapter)
Carrying case also available.
---
Downloads
Canon® Lens Controller (LC-2) Datasheet.pdf
Canon® Lens Controller (LC-2) User Manual.pdf
Canon® EF Lens Controller Catalog.pdf
Canon® Lens Controller (LC-2) API Programming Reference.pdf
User Interface: v1.3.13 Windows (32/64 bit)
Firmware: v1.7.9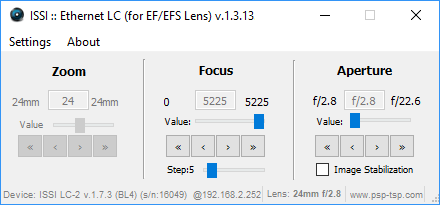 ---
CAD Drawings
---
Tested Lenses
Canon EF 18-55mm f/3.5-5.6 USM
Canon EF-S 18-135mm f/3.5-5.6 IS USM (Compatible with PZ-E1 Zoom Adapter)
Canon EF 20mm f/2.8 USM
Canon EF-S 24mm f/2.8 IS USM
Canon EF 28mm f/1.8 USM
Canon EF 35mm f/2.0 IS USM
Canon EF 35mm f/1.4 L USM
Canon EF 50mm f/1.4 USM
Canon EF 50mm f/1.2 L USM
Canon EF-S 60mm f/2.8 USM
Canon EF 85mm f/1.8 USM
Canon EF 100mm f/2.8 USM
Canon EF 100mm f/2.8L Macro IS USM
Canon EF 100mm f/2.0 USM
Canon EF 135mm f/2.8 STM
Canon EF 180mm f/3.5 L USM
Canon EF 70-200mm f/2.8 L IS II USM
Canon EF 70-200mm f/4 L USM
Canon EF 200mm f/2.8 L USM
Canon EF 400mm f/5.6L USM
Canon EF 600mm f/4L IS II USM
Sigma 18-300mm f/3.5-6.3 DC OS HSM Contemporary
Sigma 150-600mm f/5-6.3 DG OS HSM Contemporary
Tamron SP 85mm f/1.8 Di VC USD
Tamron SP 150-600mm f/5-6.3 Di VC USD
---
EU Declaration of Conformity.pdf

---
For ordering information please contact our sales department: issi-sales@innssi.com or call us at (937) 630-3012
For technical support, please contact our support department: support@innssi.com or call us at (937) 630-3012
---