Pulse/Delay Generator
(Product ID: PSG-3)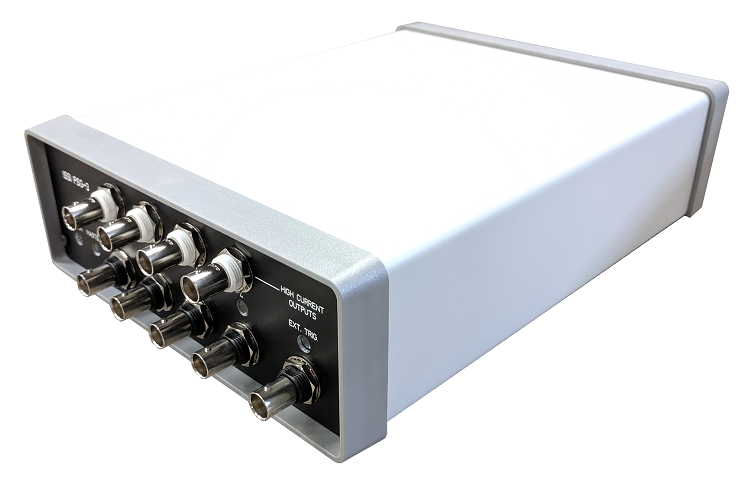 The PSG-3 is a four channel digital pulse/delay generator used for controlling the timing of experiment parameters and can be used as an experiment master clock or externally triggered (or gated) by an external event. The PSG-3 replaces the PSG-2 in the ISSI product line.
Pulse width, delay, repetition rate, and other timing parameters are controlled by a simple user interface (or also by any web browser interface) and communication is via Ethernet or USB.
---
Features
Two dual-channel independently programmable pulse generators (each PSG-3 has 4 total channels).  The PSG-3 can produce two separate frequency outputs either synchronously or asynchronously.
Four high-current TTL level outputs extend the utility of this generator by allowing it to drive low impedance loads (50 Ohms) such as solenoids and drive logic over long cable runs
Browser accessible HTTP-interface (internal web-server)
Remotely programmable through Ethernet or USB via simple software interface (or HTTP-based API)
Multiple timing bases (ns, us, ms)
Multiple PSG-3s can be cascaded to increase the number of channels
BNC inhibit input (TTL high level) to allow the PSG-3 to be gated by an external source
User application controlled or external signal triggering
Firmware upgradeability through USB
50 MHz maximum trigger rate (20ns delay resolution)
Divide-by-N from 1-255
Input Trigger Threshold 0.05-5.0V
Simple LabVIEW® integration
Ideal for laser timing systems, automated testing, and precision pulse applications.
---


---
Downloads
GUI Interface for USB/Ethernet: PSG-3 User Interface v1.5.5
Drivers: PSG-3
PSG-3 Firmware: Latest Firmware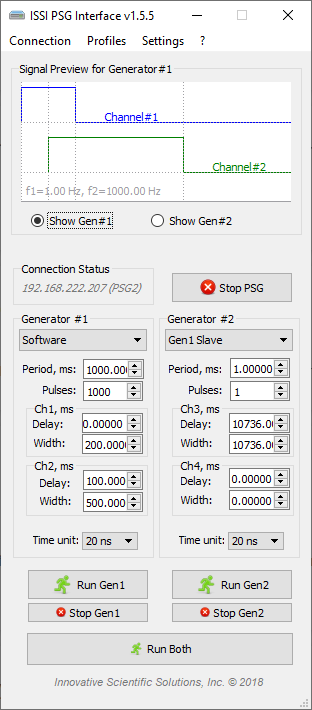 ---

---
For ordering information please contact our sales department: issi-sales@innssi.com or call us at (937) 630-3012
For technical support, please contact our support department: support@innssi.com or call us at (937) 630-3012
---